International Car Transport to Serbia
Use Professional International Auto Transport Services to Ship Your Automobile to Serbia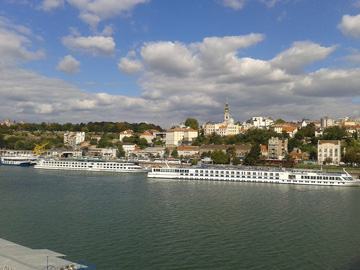 Fill out the form or call 1-800-450-5319 for information on A1 Overseas International's transport services to Serbia! Ask for a FREE quote!
Shipping a vehicle to Serbia isn't as simple as shipping a vehicle from state to state. It requires knowledge of international shipping, complying with foreign auto import and export policies, and the proper shipping equipment. Only an international auto transport company will have all of the essential qualities. A1 Overseas International is a professional auto shipping company with a lot of experience in international transport. They will be with you every step of the way, making sure that everything is done in a timely, secure manner.

While preparing for the vehicle's transport, call the Embassy of Serbia for the up to date policy for auto imports. Then, make sure you comply with the policy and that you provide all of the proof asked for. A1 Overseas International will help you through the preparation process.
Methods of International Transport
International auto transport can be carried out in one of three ways. However, one of these methods is so expensive and hard to see through that it is often dismissed. Enclosed and RO/RO transports are the methods typically used.
RO/RO transport requires that the emptied, prepared vehicle be driven slowly onto the ship's flatbed. The vehicle will be secured and left open to all elements. Fortunately, this is known for being a cost effective form of vehicle shipping that rarely ever gets complaints. The vehicles are further protected by the international transport company's insure coverage.
Enclosed transport is a form of shipping that adds a little more protection than RO/RO methods. The vehicle is placed inside a large shipping container. This also makes it possible for people to fill the vehicle with possessions acceptable by Serbia, as well as the remaining container space. Many people purchasing this shipping method split the cost and space with another individual.
Air shipping offers a less timely shipping process, yet costs more than most are willing or able to pay.

See the Top 10 Cities, We have Services
| | |
| --- | --- |
| Belgrade | Novi Sad |
| Niš | Kragujevac |
| Subotica | Zrenjanin |
| Pančevo | Čačak |
| Kraljevo | And more… |
Fill out the form or call 1-800-450-5319 for more info and a FREE price quote on boat, motorcycle and car shipping!